Monday, July 29, 2019
8:16 PM
Sharing Projects
---
You can also Share or make you projects Public or Private directly from the dashboard.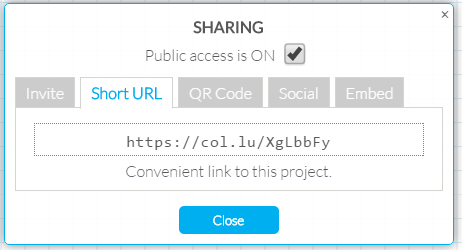 Private projects are only viewable by people who are given explicit permission to the project.

Public project are viewable by anyone with the link. These projects may also be indexed by Internet Search Engines.

Select Make Private to change project permissions and make the project PRIVATE.
Note: People added to a project will still be able to access the canvas after its been made private. You will have to manually remove access of these collaborators.
Once your project is made Public, a short URL to your project is automatically generated. You can use this link to share your project with anyone, anywhere, anytime.
EXAMPLE: https://clsn.us/lyVckCC
Selecting Email from the Share screen will launch your default email client on your device and attempt to compose a new message with a link to the current Collusion project already added to the email body.

You can also Embed Collusion projects on webpages just like Google Maps or YouTube videos. Select Embed to get the HTML web embed code.